Keith's Keto Blog – Week 4
Just about halfway through the 60 days and I still feel good. Getting in a good routine is important to keeping in ketosis. After last weekend I can say that staying in your routine can be challenging while away, especially when other people are involved. This blog may be a little long but I want to show how a bad night is not the end of the world.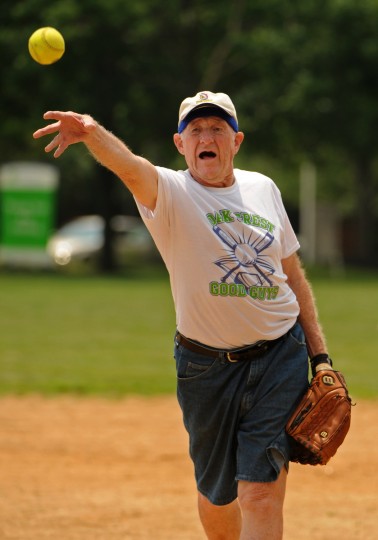 Last weekend I was away for a softball tourney in Syracuse, NY. I drove there with 3 of my teammates, about 4 to 5 hours. I knew it would be a challenge right away, even though my teammates know I am a healthy eater, they did not know anything about Keto. The guys decided to stop on the highway at a rest stop for dinner Thursday night. This is the 1st time in I don't know how long I have been to a McDonald's but I figured I can make it work. Phil orders a 20 pc McNugget and a Diet Coke, Kevin and Leo get Combos with burgers, Fries and Large Sodas. My turn now and you should have seen the look on the kids face when I ordered a Double Bacon Cheeseburger, No Bun or Ketchup and a Side Salad. He had to ask "NO Bun?". I said yes no bun. He got the burger right but it seems salads must be popular at this McDonald's because they were out of salads. I ended up getting a 4 pc chicken strip instead. I was going to put mustard on my burger and chicken but I guess everyone at this McDonald's also uses mustard on their salads because they did not have mustard either. How can you not have mustard at a McDonalds???? Well the meal I had wasn't optimal but it was the best I could do under the circumstances and it kept my macro numbers pretty much in line.
We were staying at the Fairfield Inn and it included a free breakfast so I was not sure what to expect. I came prepared for the weekend with my Paninos I mentioned last post, my MCT Oil and Ghee, along with a big bag of Salted Almonds and Electrolyte water and Electrolyte Mio's to flavor the water. Morning comes, I add my MCT Oil and Ghee to an empty coffee cup and head down for breakfast. I add coffee and a little milk to my cup put a lid on it and gave it a good shake. Not the best idea!!! I guess the hot coffee and everything builds some good pressure up and the coffee started squirting all over, luckily I  covered it up quickly with a napkin before I got it all over. (Yes Beth I should have brought my Magic Bullet). Breakfast turned out to be OK. I had eggs, sausage, cheese and a little watermelon.
1st game was at Noon on Friday so I packed my cooler with my Panino, Water and Nuts because we had 2 games in a row. I was set for snacks if I needed them. After the games the team wanted to drive into the city to go to a BBQ place called Dinosaurs that they always go to (I am a rookie and the youngest on the team). I know I can eat at a BBQ place without a problem, I have pulled pork all the time. I order the Big Ass Pulled Pork meal, Pulled Pork, Coleslaw and Cucumber/Tomato Salad with Oil and Vinegar, I can give away my cornbread. Only problem I ran into was the BBQ was on the pulled pork, not on the side like it usually comes. It wasn't loaded on so not that big a deal and I was right on with my macros for the day.
Saturday breakfast was the same so easy there, 8am game though so I skipped my BPC in the AM because sometimes coffee to close to a game or workout will give me calf cramps. I did have half an English muffin with a bunch of butter to get my extra fat in. Lunch was a salad with eggs, oil and vinegar from Wegmans. We lost our 1st game of bracket play Saturday so we had to play again at 11am and then again win or lose at 5pm, so my snacks came in handy after 1st game and lunch before 5pm game was perfect. After the 5pm game (We won both) I was informed by my teammates we were going to the Casino to get Prime Rib. OK, Prime Rib works. Unfortunately this is where things went south. The prime rib was sold out so they decided to hit the buffet because it also has prime rib. OK lets see what we can do here. $28 for the buffet. My strategy at a buffet is to get my per plate cost down as low as possible so I needed at least 4 plates to make it $7 per plate. Started out light, salad with cheese and olive oil, check. Good so Far. Over to the carving station. Prime Rib, Pork wrapped in bacon and Italian Sausage. Check still good but the meats were not all that great and this buffet had a build your own grilled cheese and Ice cream bar. My next 2 plates were not good. Grilled cheese, 1 slice of pizza, garlic bread with cheese. Dessert was Chocolate soft serve with caramel and M&M's and Jimmy's and a Mini Chocolate cupcake. I must say the only part of those last 2 plates that was remotely satisfying was the ice cream. Hindsight is always 20/20. 4 plates it was, 2 good, 2 bad and I regretted those last 2 since they were not all that great. Luckily we did gamble a little and I did win some $$$ on the penny slots so the trip wasn't a total waste. Well Sunday I will be back on the Keto wagon.
Morning was not great, another 8am game so up at 6am to eat breakfast, this time I decided to do my BPC because I think I was not as mentally sharp the day before without it. Same breakfast but as soon as I finish I started feeling really crappy, stomach pains like I have had in the past with food poisoning. My stomach is tough and I never throw up so it sometimes can be worse for me. It was rough for about an hour or two but I was OK for game time. I think it was the Keto gods making me pay for the buffet the night before. At this point in the tourney it is lose and go home and we have to face the team we lost to in the 1st game It is a back and forth game with some good defense on both sides and we end up pulling it out with the tying run left on 2nd base. Next game right away against another team that just played. Another close game but we were in control the whole game and win another. We are now 1 of 3 teams left, we just sent our 3rd team packing and now we play the team that just lost in the winners final. It was a 1 run game until the top of the 7th when they put up 8 runs to go up by 9. We have not hit all game and this is our 8th game in 3 days and I guess we just ran out of gas and could not put a rally together in the end. Great weekend though both for Keto and softball, both had some challenges but in the end it all worked out for the most part.
Falling off the Keto wagon or any diet wagon is not the end of the world. There will always be bumps in the road, cake that needs to be eaten, pizza that can't be passed up, s'mores at the camp fire, just try and enjoy it and don't fall off the deep end. Get right back in there and start again. With Keto it may take a day or two to get back into ketosis but that is OK. We learn what we can do and what we can't do with every bump in the road. It is unrealistic to think you will never eat another cupcake in your lifetime. Make healthy choices most of the time, don't worry about the little mistakes or cheats and keep moving towards a healthy life.